Decibullz Contour: A Perfect Fit, But Imperfect Sound
This is my review of the Decibullz Countour headphones, one of our first startups of the month. I paid $40 for these on Kickstarter, but now they'll set you back $60.
Ordering them
In late November of 2013, I came across a cool Kickstarter project that offered custom-fit headphones for $40. I was so thrilled that I named it December's startup of the month. I quickly invested in a pair.
Six months later, in mid May, my Decibullz finally arrived at my door, and now, I finally get to review them!
What they are
The Decibullz Contours are pretty basic in-ear headphones, except for the fact that you can custom-fit them to your ear. This provides a more comfortable fit, and better noise cancellation, plus they supposedly won't fall out when you're working out with them.
Most custom headphones (in-ear monitors) cost hundreds of dollars, and require that you visit an audiologist (an ear doctor) to get custom molds of your ear. In-ear monitors are super-comfortable, with incredible sound, but they're inaccessible.
Decibullz offers a Do-it-yourself, custom-fit alternative for just $60. Here's how it works, and what I think of it.
Preparing Your Decibullz
As I said, the molding process is in your hands, which means that you control whether your headphones are incredibly comfortable, or incredibly uncomfortable.
The process starts with boiling your plastic headphone molds in hot water. Then, after they cool a bit, you stick the molds in your ears. The molds startup as basically the right shape, so it's really just a matter of molding them a little bit, to fit the exact contours of your ear comfortably. Over-molding can cause them to fit poorly (I know from experience). Then you let them sit for a minute in your ear to set, and you're done. The whole process takes about ten to fifteen minutes. The material hardens nicely, so it isn't going to un-mold or deform, but it isn't uncomfortably hard.
The molding is a bit tricky to do the first time. The molded material cools pretty quickly, so molding them until comfortable can be a bit tricky. I messed up the first earphone on mine, but I did the second earphone perfectly. Luckily, the material is completely re-moldable, so you can redo it as many times as you'd like.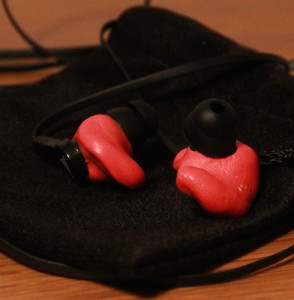 The final result
The final result, if you do it right, is a very comfortable, secure-fitting earphone. I tested them on a noisy bus, and they do an excellent job of cancelling noise, when done right.
I think it's worth clarifying, the Decibullz are still mostly traditional earbuds. They don't get rid of those annoying rubber ends on typical earbuds. They just make them more comfortable. For example, instead of having to use a big rubber stopper to hold the earphone in my ear, I used a smaller, more comfortable size.
Sound Quality
The sound quality is not bad, though not fantastic. There are better headphones that you can get for $60, but I think that the custom fits add serious value.
For most of my headphone reviews, I use the tests at audiocheck.net. Statistically, the bass is a bit weak. This was verified by the music I listened to. The treble was a bit better, though not amazing. Most other tests led me to similar conclusions. These are certainly decent headphones, but these aren't for audiophiles.
The most impressive area of these headphones is in noise cancellation. Even when not playing a sound, these are fantastic for cancelling noise passively, but when music is playing, all background noise is gone.
Build Quality
The earphones themselves are exceptionally well made. The bud, and the mold material appear very durable. The wire is flat, which is nice, because flat wires tangle less. Unfortunately, the wire is thin, and the connection don't seem strong. The build quality of the wiring reminds me a bit of a $25 pair of Skullcandy headphones. It just doesn't seem very sturdy, and I'm doubtful as to how long these will last. That's an issue, when their target market is for those using these for physical activity.
Conclusion
I really wish I could recommend the Decibullz Contours. The concept is brilliant. The molds work fantastically. Unfortunately, the headphone technology just isn't there. Despite the fantastic molds, I don't think these headphones are worth $60. To me, these are $30 headphones.
Don't worry though! I have a solution for you, until they release a higher-quality pair of headphones.
The Good News
Decibullz actually sells Decibullz molds that can be used with a variety of headphones. The molds themselves are only $15 each, meaning that you can take almost any off-the-shelf pair of Sony, or Skullcandy headphones, and turn them into custom-fit headphones.
Join thousands of subscribers who we work hard for..
[mc4wp_form]