Skullcandy 50/50 Earbud Headphone Review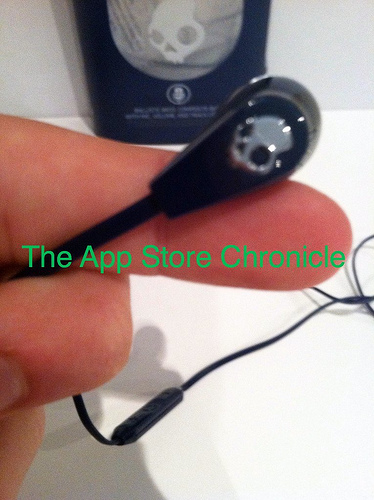 The Flat Back of The Earphone
In short, the Skullcandy 50/50 earbuds were money well spent. I put together a comprehensive review below that you should read to see if it fits your needs. If you like this review then be sure to check out our other articles, and bookmark, or subscribe to our RSS feed or daily newsletter. And share it with your friends on Facebook and Twitter below so that they can find headphones that fit them.
So, anyway, I got the 50/50 earbuds about two months ago and so far they are impressing me. For $30-50 depending on where you buy them, these headphones offer a well built pair of earbuds with good sound quality. If you don't have $30 for headphones, we've got you
covered here
.
The good: Very affordable with powerful sound, and a built in ipod controller and microphone. This is a great pair for iphone, and ipad users because they are good for music, and phone calls, and even playing with fun musical apps such as Ladida (a review of that app coming soon). The cord isn't tangle free but it is very easy to untangle because the flat cord prevents tight knots. They look pretty stylish, and come with a case.

The Bad:
I haven't found any major flaws yet. The sound quality could be better, but for $50 it is very decent. If you're an audiophile then I would recommend going for a pair with higher sound quality such as the Bose MiE2 for iphone which offers the same ipod controls and mic with a much higher sound quality, and noise canceling. They also offer a $99 model with no ipod controls. The zipper on the case can get sticky sometimes. Doesn't block too much noise unless set at max volume.
Sound Quality: For this price point the audio is very decent and the volume has a nice range with a nice base. These aren't as good as my QC-15 over ear headphones from Bose, but at this price they shouldn't be. These are in my opinion, as good as the beats in-ears, at 1/3 of the price.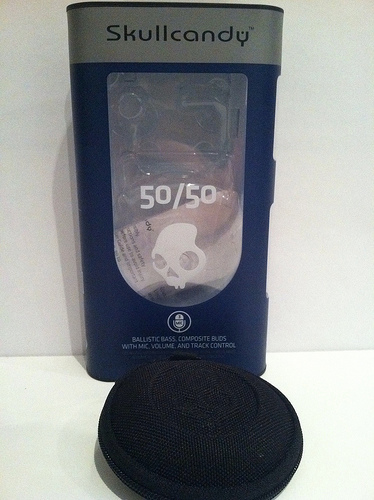 The Stealth-Black Canvas Case
Durability: These headphones have stood up surprisingly well to the challenges of my life. I worked out for a while in these, and perspired a lot on them and they worked absolutely perfectly, and quickly dried off. They have worked for long car, and plane rides. These have certainly done the trick, and the flat cord seems pretty stable
Design: Very stylish. They have a cool flat look on the side of the buds, and that matches with the flat cable. The color scheme is navy, with some chrome branding that looks great. Looks a lot better than some headphones I've had.
Optimal User: Not for audiophiles. Someone who wants good (but not amazing) audio quality. Very good for Apple i-devices because of the ipod controls. So good for iphone users looking for something better than Apple Earbuds, and cheaper than Bose, or Beats. Also great for travellers and people always on the go because they are light, compact, and come with a nice small case.
Conclusion:
For $30-50 these earphones do their job, and produce very nice sound. They seem stylish, and durable, and come with some nice extras such as a nice little zipper case, ipod controls, and three sizes of earbuds that make them worth their price. If you fit the user-base above, these are definitely worth picking up. You can even
pick them up for 40% off here
.
Design:

(4/5)
 Durability:

(4/5)
 Quality:

 (3/5)
Value:

(5/5) 
Overall:


(4/5) Very Good!
If you have products that you love or don't love, let people know, and contribute to the web. I recommend CNET for all of that.
Posts provided by The App Store Chronicle- All Rights reserved