This Speaker Is Amazon's Next Step Towards World Domination
A Review of The AmazonBasic Mini Bluetooth Speaker
This is the Amazon's AmazonBasics Mini Bluetooth speaker. It cost me $26  dollars, and it was shipped to me in under three days. It's funny how much a $25 speaker can say about a $155 billion company. If this is why every retailer is so afraid of fighting Amazon, they're in for a tough fight.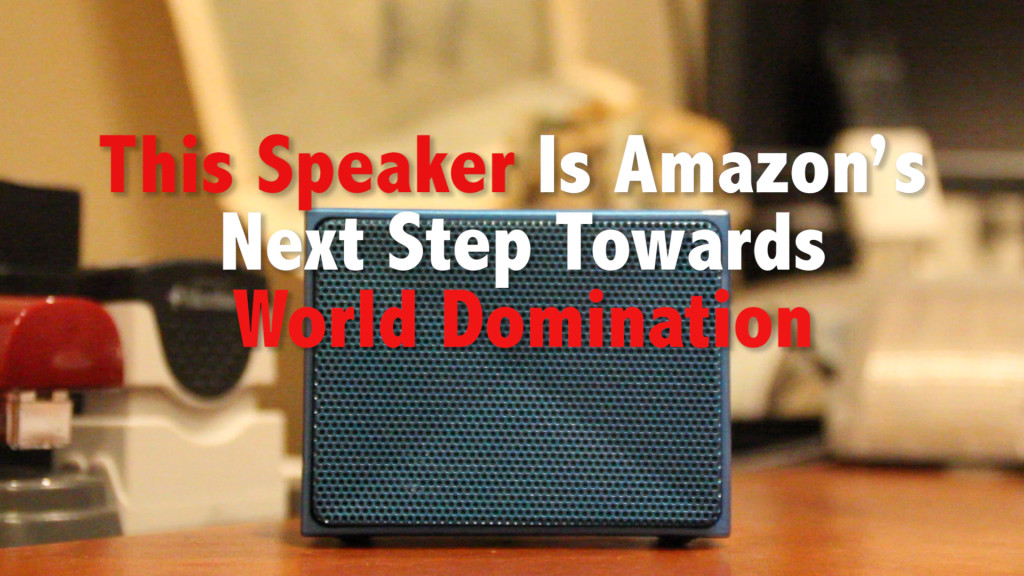 AmazonBasics is a division that Amazon created to sell generic things like batteries, and HDMI cables at competitive prices. I didn't buying and reviewing an Amazon speaker, until I saw the price.
Most Bluetooth speakers range in price from $100, to $400. For example, Jawbone's Mini Jambox retails for $130, while Apple's Beats Pill SE will set you back $200. Bose sells its portable speaker, the Soundlink Bluetooth Speaker III, for  $300!
Somehow Amazon has managed to build a compelling product for far less than that. Somehow the AmazonBasics Mini is just $40, though I bought it on sale for $26, and Amazon offers a similar, larger speaker for just $60 (the comparable model from Beats costs $300). At that price, I was really surprised by what I found.

[mc4wp_form]

The AmazonBasics Mini speaker is very sturdy, and well-made. The aluminum enclosure carries a 3 watt speaker, which fills the room with sound through speaker grills on either side of the device. The Mini is easily pocketable (at least for a guy), though with sturdiness comes a bit of heft. If you'd prefer to put it in a backpack, the Mini comes with a nice little draw-string carrying case. It's simple, but it gets the job done.
The Mini  has only four buttons: an on/off switch, two volume controls (louder, and softer), and a Bluetooth sync button (which I haven't yet found a use for – because syncing worked without it), but four is all that you need.
Setting the speaker up, as with most Bluetooth devices, is incredibly easy. All it takes is a flip of the on/off switch on the speaker, and one or two taps on your smartphone or tablet to pair it. The speaker came pre-charged, and ready to blast music right out of the box. Apparently the battery is good for five hours of music at a time, though despite intensive testing, I still haven't run out. Charging is just a matter of plugging one end of the included Micro-USB cable into the speaker, and the other into your computer's USB port, or a USB wall charger (like the one that charges your phone).
One of the other great things about Bluetooth is that If you're not a fan of physical buttons, or you're not near the speaker while it's playing (Bluetooth has a range of 20-30 feet), you can fully control the volume, and the set list from your phone's music app.
The Mini also comes equipped with a built-in microphone, meaning you can use the speakers to make conference calls, or give voice commands to Siri. In addition, there's a standard 3.5mm headphone jack, for connecting devices that don't have Bluetooth, though I'm not quite sure what people would use in this day and age.

Sound quality isn't incredible, but honestly, it was more than I expected. It may not be bose-quality sound, but listening to the AmazonBasics speaker is very pleasant. It's not "tinny", as some cheap speakers tend to sound, and actually has a pretty good bass to it. The Mini also has an impressive volume range, meaning that you can use it for softer situations, or louder social situations, like a tailgate, a car-ride with friends, or a small party. The Mini certainly is mini, but the design of the double-sided speaker grills make it a loud little speaker.
So, what's your conclusion?
The AmazonBasics speaker is not the world's best speaker, but it is an incredible value. If I were on "The Price Is Right", I probably would have guessed something between $75, and $120, rather than $25-40. The sound is good, the Bluetooth works well, and the design makes it portable, while still looking great on any desk. If you're not a strict audiophile, and just want a good speaker at a great price, I would highly recommend the AmazonBasics Mini Bluetooth Speaker.

Side note: Amazon is seriously going to take over the world
The fact that Amazon can put out such a competitive product, at such a competitive price, pretty much proves that they're on the path to world domination. Seriously, this speakers is going to force inveterate speaker manufacturers like Bose to reconsider their pricing, and what they put into each and every product.