The Next Big Tech Trend: America Goes Secret
Identity is disappearing as fast as a snapchat. The next big trend in communications technology, is removing identity – or at least redefining it, and separating it from the name. Why is that happening? What is the future of anonymous tech? Read on for that, and more.
Why Communication is Going Anonymous
Americans are turning towards anonymous apps as a psychological response to increased, prominent government and corporate access to our personal information. Revelations about the NSA, brought about by Edward Snowden, and recent news about things like Google scanning a man's email for authorities, to gather evidence about sexual misconduct, have left many fearful about how much of their lives are online. From talking to users, I've found that some also simply enjoy being able to speak their mind, or let off some steam without fear of retribution – it's a lot of fun.
How Communication is going anonymous
The move towards anonymous, or short-term communication is becoming more and more popular every day. Secret, an app for sharing things anonymously with friends and strangers, and reading other people's anonymous thoughts, has gone viral amongst the tech-savy crowd. It's currently the number one app in Brazil, and Israel, and one of the top 100 apps in the US app store, the largest market for apps in the world (according to App Annie, an app store data company).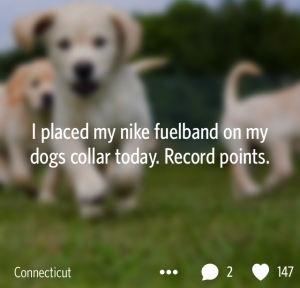 The app has been used by users "coming out", speaking about troubles in their life, or just cracking jokes. Amongst the Silicon Valley crowd, some leaks have even emerged, with users sharing confidential information about big companies like Facebook, and Google with the world. Without names, there's no shame in sharing, and it makes for some very interesting posts (full disclosure: I enjoy reading the more-humorous posts on Secret). Another anonymous app which caused controversy this year, and gained significant popularity amongst students, was an app called "Yik Yak", which allowed people within a geocentric location (within a few miles of each other), to see, and vote on anonymous posts. It led to some serious cyberbullying, but it was also enjoyed legitimately by quite a few people. Snapchat, whose users share well over a billion pictures per month (they were recently valued at over $10 billion), is another example of secretive communication that's become popular. While most users know each other, communications expire after only a few seconds. There are plenty of ways to save Snapchat images, but most of them, for all intents and purposes, are seen only once, for under 10 seconds. Snapchat allows people to share snapshots of their life, without putting their entire life under the public microscope.
An anonymous email service known as "Leak" emerged in July, but grew so popular that the creators couldn't support it, and had to take it offline, while they figured out how to properly scale it. The name is pretty self-explanatory, and leaves little doubt about its purpose.
Unfortunately, anonymous services lend themselves well to illicit activities, and often end in tragedy. Managing that, and making money with a group of users that doesn't want to share personal info, will be the greatest challenges that anonymous services will face. A question and answer service called "Ask.FM" for example, is indirectly responsible for over 10 teen suicides. Cyberbullying is so common that several US congressmen have asked the site to shut down. Ask.fm has also been used by terrorists, including ISIS, which is ravaging Iraq right now, to share information on ilicit activities anonymously.
Of course, Bitcoin, the infamous cyber-currency, is also renowned for its privacy, and security. All transactions are anonymous. Unfortunately, this has led to its use by terrorists, and criminals, besides legitimate users.
What Works Anonymously?
Just about every idea that may work anonymously is currently being tried anonymously. Everything from email, to money, to social networks and more. The great question that no one can fully answer is, "Which ideas will last?"
The great challenge with anonymous services is that, if you're not even collecting a name and email, how can you charge your customers for your service? There's always advertising, but considering how little data these sites are supposed to collect on their users, they risk alienating users if they start using targeted advertising. The company that cracks the puzzle of making money off of anonymous users (and I'm sure some company will figure it out) will be the big winner – the lasting company – the Google, or Facebook of anonymous life. Until that happens, these ideas will have to be maintained off of the generosity of their users (donations maybe?), or the forward-thinking idealism of venture capital.
How will anonymous companies make money? Tweet your idea (and win)
If you're interested in ideas like these, follow our newsletter
[mc4wp_form]
Or our twitter account
If you aren't following us on Twitter, you're using Twitter wrong.