Quicklytics: A Review Google Analytics on The Go
Since you're here, you can obviously tell I have a website, and I monitor that website on the go using an app called Quicklytics ($4.99 ) which syncs with Google Analytics live data.
As a reviewer of apps it's not often that I'm content with the first app I try in a category, but honestly this app is so well built that I never have. I find myself using Quicklytics instead of the regular Google Analytics Website.
So let's get into the why. Exploring analytics on a touch interface just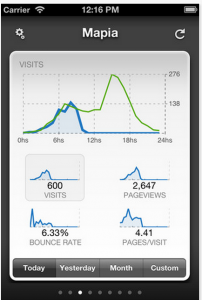 feels natural. Changing parameters is just a few taps away, and you can completely customize the date range. The data is live, and you can view literally everything from inside the app.
It's got behavior, demographics, technology, sources, content, and everything else you'd expect in an analytics program and it's easily sortable. Each category loads quickly, and the automatic graphs represent the data in a really easy to digest manner.
At $4.99 I was nervous at first that it may end up a waste of money. Let's face the fact that for an iPhone app it's ridiculously expensive. After using it for two weeks though I can tell you that if you're serious about statistics this apps is worth every cent.