Exclusive: Google Nexus 5 Rumor Roundup
Google's Nexus 5 is officially the world's worst kept secret. For literally months, we've been seeing leak after leak. We're flooded with correct information. Here's a roundup of the dozens of leaks we've seen so far.
September
Google released a video for the release of Android Kitkat which included a clip of an employee using the Nexus 5 for video.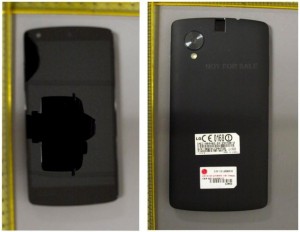 FCC-released documents revealed further specs on the display and battery, as well as pictures of Nexus 5 components.
And ironically enough, a photo was leaked onto the Macrumors forum.
October
Italian tech site, tutto Android released leaked photos of the phone in action, including the lock screen, boot screen, and home screen, as well as further photos of the design.
A spec sheet showing similarities between the Nexus 5, and LG's G2 was leaked just days after the Italian leak. Can we even call it a leak anymore?
Nexus 5: What We Know
4G LTE Cellular

2,300 mAh Battery

Dual Band Wifi

Bluetooth 4.0

Wireless Charging

2.26 Ghz  Quad Core Snapdragon 800 Processor

And Android Kitkat