Leap Motion Review: Prerelease Developer Model
Immense Potential, A Bit of Work To Be Done
Note: We tested a prerelease developer model. This is not a final product, and many of these bugs will likely be worked out by the end.
UPDATE: The leap motion has been thoroughly improved, and is finally available for purchase here.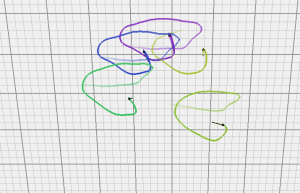 Drawing in mid-air with my fingers
Controlling your Mac (or PC) with the wave of your hand is no longer just a dream. I recently tested the Leap Motion (thanks to my Dev Friend Brian), a device which brings motion control to the mac, and I was wowed (I've got lots of good pictures too. Extras at the bottom)
The Design:
The design of the leap motion is fantastic. It's simple and uniform, and it doesn't have a single button on it. The sensor is concealed behind a sleek black casing, and the edge is brushed aluminum. The design perfectly matches that of recent macs, so it doesn't stand out, and it looked great next to my Retina Macbook Pro (see picture). The bottom is a heat-absorbing matte material similar to the bottom of an Apple TV.
Is the leap Motion portable? Yes. Unlike it's main competitor, Microsoft's Kinect, the leap motion is powered by USB, and a bit bigger than a flash/thumb drive. It's easily pocketable along with an iPhone or wallet (or other smartphone), and all you need is a flat surface to put it on, which the Macbook's palm rest serves as nicely. Having a device like this that's fully portable is a major advantage, and despite this portability and small size, the sensor
The incredible:
While the applications packaged with the developer model are just simple proof of concept, you understand the value as soon as you first use it. Using the included visualizer, I ran some tests and found that the the Leap's detection of movement in 3D space was highly precise. I had a blast just drawing in the open air, and signing my name in the air, but I could definitely see using the motion as a tool in photoshop.
The motion doesn't just detect motion. It breaks it down into different inputs, assigning a different color to each of my fingers. I found that the motion was spot on, and smooth. I could see potentially assigning different tools to each finger, so one finger can be used to crop, while another to draw for example.
Perhaps nothing amazes me more about this device than its' price. $70. Kinect, an inferior system, is bulky, you have to modify it, and it costs upwards of $90. A good mouse can cost $60-70. This is a great price range to encourage early adoption, and I'm thrilled enough that I plan on preordering it.
The Issues:
With new technology comes new challenges, as they say. The leap definitely has a few. First of all it heats up a bit while in use. It's not hot enough to be an issue, but it is noticeable. Secondly, the Leap occasionally picks up extra input from people nearby, which could prove a problem if using it on an airplane, or a train for example where accommodations are tight.
Secondly, the Leap is a serious battery drain. As you can see in the diagnostic screenshots, the motion cut my computers battery life by over four fifths, from nearly 5 hours of normal web browsing, to 45 minutes of the Leap. Powering the peripheral, sensors, and the software to translate its' input is a serious battery drain, decreasing its' portability. My suggestion to them would be to include a small rechargeable battery in the motion to take some of the stress off the system during mobile, or unplugged use.
Conclusion:
If the Leap motion is the future of control, the future is bright. Even as computers have evolved from calculators to advanced graphics machines, we've been so shackled by the mouse and keyboard. Controlling computers has advanced at the pace of a tortoise, with the recent innovations of the trackpad and touch being the farthest extent we've advanced it.
This new system of control is new, and experimental, and fun, and I'm really excited to see this come into the mainstream. The Leap Motion one of a wave of new technologies quickly expanding this category this year, (including one eye-motion control system) but I think the Leap Motion just may have the edge to take the market as the leader.
Summary: Despite the battery drain, the Leap Motion is a fantastic device that I would highly recommend when it's released. It's available for preorder, but until the first wave of applications comes in, it will just be a fun pointless toy, so you may be better off waiting until a year after release when any bugs have been worked out, and there's a solid base of compatible apps.
Buy or No Buy: Buy!
And some more photos!